JACK GRICE
Montecchio War Cemetary, Italy

Sgt Jack Grice
Died in a bombing raid over Italy 31st August 1944, Age 31
Born Sheringham
Enlisted Norwich
Buried in Montecchio War Cemetary, Italy
Coll. grave IV. A. 14-15. Memorial ID: 56431664
Christian Wahlster from Munich/Germany kindly provided the information below.

After some investigation about a cousin (Lt. W.R.A. Grosse-Rasgado) of my father I can supply some information concerning Jack Grice, Sergeant, 1870873, Wireless Operator/Air Gunner who is listed on the Sheringham War Memorial (1939-1945).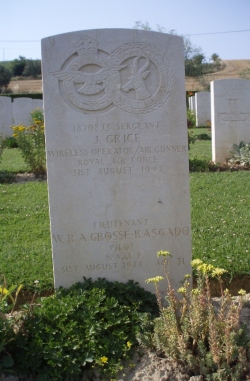 Jack Grice was a member of a bomber crew. On the 31. of August 1944 his aircraft (Martin B-26F-6-MA Marauder Mk II bomber, RAF HD589, formerly USAAF 42-96516, 1942096516, built 1942) was on a flight from Pescara to Pesaro (north of Ancona) in Italy.
The targets of the raid were tank traps and gun positions of the German defense line called "gothic line" or "green line". The aircraft (12 squadron SAAF (South African Air Force)) was in a formation of several Martin Marauder bombers. In the target area another close aircraft exploded mid air and unfortunately the debris from this explosion brought down the aircraft of Jack Grice.
The aircraft "spun in over the target" and "no shutes were seen". The six members of the crew that died were:
Lt. Sidney Crispin Street (41757V), Pilot, SAAF.
Lt. Wermer Richard Alex W.R.A. Grosse-Rasgado (206375V) Pilot, SAAF, age 31.
Lt. Desmond Patterson (328980V) Observer, SAAF, age 20, son of Frederick and Ethel M. Patterson, Fish Hoek, Cape Province, South Africa.
Sgt. Jack Grice (1870873) Wireless Operator/Air Gunner, Royal Air Force Volunteer Reserve.
Flight Sgt. Clifford William Morley (1579539) Air Gunner, Royal Air Force Volunteer Reserve, age 22, son of Robert March Morley and Emily Taylor Morley, Swannington, Leicestershire.

Flight Sgt. George Basil Smith (1575180) Air Gunner, Royal Air Force Volunteer Reserve.

All the crew members were buried on the British War Cemetary Montecchio, Via Montecchio 158, 61025 Montecchio PU (west of Pesaro) on the 17th of April 1945.

Here is a link with a photo of Jack Grices grave stone from the cemetary in Montecchio.

Click Here