ERNELY HOLSEY
Arras Memorial, Pas de Calais, France

Private 41555, 1st Battalion, Essex Regiment.
Formerly 4941, Norfolk Regiment.
Killed in action Saturday 14th April 1917.
Enlisted Cromer, resident Sheringham.
Commemorated on ARRAS MEMORIAL, Pas de Calais, France. Bay 7.
Personal Account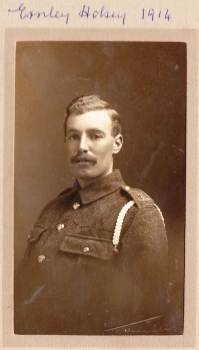 ERNELY HOLSEY lived at 4, Lilly Cottage, Johnson Road, High Street, Sheringham. He was born, 1893, in Sheringham and he had two older brothers, Charles (born Hindolveston) and Harry (born Sheringham) and a younger brother, Willie (born Sheringham).
Their parents were John and Agnes HOLSEY (both born Hindolveston) and John was a fish merchant. The family had moved from Hindolveston, where John had been the Saturday carrier, between Hindolveston and Norwich (White's directory, 1883) The family moved from Hindolveston to Sheringham sometime between 1883 and 1890.
The boys' paternal grandfather, another John HOLSEY, was a farmer and publican - keeping The Red Lion in Hindolveston between 1879 and 1896. He died in 1897.
ERNELY HOLSEY enlisted in the Norfolk Regiment at Cromer. His service number was 4941, and later 29449. The decimation of regiments during the Great War was probably the reason for the regrouping and changes of number - as was his later detachment to the Essex Regiment.
He was serving as a Private (41555) in this Regiment when he went missing in action on 14th April 1917. The British Red Cross and Order of St. John enquiry list for August 1917 has him as 'missing' from that date, while serving with 6 Platoon, B Company, 1st Bn. Essex Regiment (Pompadours). This was the Battle of Monchy Le Preux. As he has no known grave, he is commemorated on the Arras Memorial, Pas De Calais, France.
I have, as of yet, been unable to find evidence of a marriage for ERNELY HOLSEY, but this, of course, does not guarantee that he stayed single.
Painfully little information, I appreciate, but I hope that it will be of some use to you.

Sincerely, Alan Manser
Photograph provided by Gillian Swan (great niece of Ernley Holsey).